SPED Parent Basic Toolkit
"I strongly believe that behind the success of every disabled child is a passionately committed,
intensely engaged, and totally empowered parent, usually but not always the child's mother."
This quote is from the book, "Overcoming Dyslexia", by Sally Shaywitz, M.D., Knopf, 2003, page 9.
Diana Rigby, Our Administrator of Student Support Services
, read this quote to
our PAC, at her welcome meeting, on Sept. 10, 2003
.
You need to educate your self in two areas:
1. The first area is to learn about your child's disability:
There are several pages on our website that you might find helpful. Our book page, has books listed by disability, our disabilities links page has other sites you can visit and last we highly recommend that you join one or two of the disability organization that matches your child's disability.

2. The second area is to gather information about special education laws.
Get a hard copy of the state regulation (766), and Federal law (IDEA). You can find these at both Concord libraries or view/print it on-line. Order your own copies of the regulations (see our law page).
There are several advocacy books our members have recommend, visit our book page.
The first two Federation for Children with Special Needs, workshops that you want to attend:
1. 'Understanding your Special Education Basic Right Workshop' (Know as Basic Rights),
2. IEP Workshop,
Get a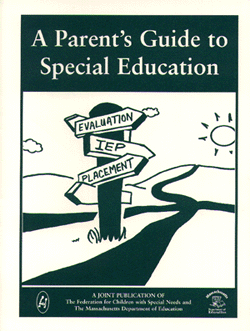 copy of the 'A Parent's Guide to Special Education Manual' by Federation for Children and Department of Education (DOE), 12/10/01.
You can obtain a copy by attending the Federation 'Basic Right Workshop' or by calling the DOE 781-338-6203 or view/print it on-line at Federation website, by clicking here or the book cover shown here.
Request the school to evaluate your child, see Why Evaluate page, and Sample Letter to send a written to the school special education). A Child Study is different then having your child evaluated using nationalized standard tests.
Go to your child's school and get a copy of your child's school file:

Some of the more telling pieces of documentation are 'Level-to-Level transfer' notes from the teacher to teacher.
Get copies of any state testing scores (i.e. LOWA, MCAS, etc.)
Conference forms/grade report

Create your own notebook or setup your own files on your child.
Getting ready for your Team meeting?, click here to visit our webpage.